Last year as a Roving Scholar in American Studies in Norway it was my job to answer lots of questions about the United States. Norwegians are in many ways intensely familiar with the U.S.—from television and movies but also from personal experience and/or having relatives in the U.S.—but in other ways there often was a deep divide between what Norwegians expected of an American and what I represented to them. For example, some of the questions I was asked were what I would have anticipated, "Who did you vote for?" "What do you think of the current president?" Others were a little more surprising but somewhat understandable, "Do you have a gun?," for example. And sometimes I was simply astounded by the perceptions that came at me. One teacher that I worked with asked if I minded taking the stairs to class. I said that of course I didn't mind, thinking that she was asking in case I had trouble with stairs because of health concerns she couldn't see by just looking at me. After I answered, she looked at me and replied, "I thought I should ask because you are American." Or take the case of a very sweet student who came up to be after class and said as politely as one can say this that she was surprised because I seemed so "normal." I asked her what she expected me to be like, and she blurted out, "Honey Boo Boo." No shade to Honey Boo Boo, but we don't have that much in common.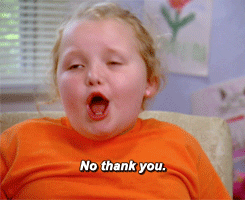 There have been many times when I've hit my limits with people's perceptions of me and become frustrated and annoyed. Luckily, I have some really good friends who will listen to me complain about this when I need to. But mostly I think (I hope) I manage to be open and not too defensive.
One big piece of helping me think through all of this is that many of these views are not just based on individual encounters with Americans but also on the way that my country has acted on the world stage since the end of the 2nd World War. That is a topic for another day, or another lifetime, but worth at least noting now.
The thing I wanted to write about today, though, is how much this view of Americans now reminds me of similar exchanges from the nineteenth century. As a scholar of that time period, I've read a lot of novels where brash Americans and cultured Europeans just don't quite get each other. It's sort of funny to think that these big cultural generalizations haven't changed much in hundreds of years.
I was reminded of this again recently when I was reading the newspaper columns of Bill Nye. Bill Nye, in this case, is the nineteenth-century humorist and not the science guy. (I have written more about him here.) I'm working on a slow-going article about Nye and how he uses regional humor to connect his readers into a group based not on location in the nation but on access to and participation in print culture. As I was sorting through Nye's newspaper articles that I might use, I stumbled upon one that made me laugh because it addressed exactly this American culture/European culture divide that I have experienced in Norway, but it does so in an unexpected and odd way.
In this newspaper article, Nye jokes about how he thinks that more European thinkers would be more partial to American writing if they had the chance to read writing about baseball. The joke here is that baseball writing is very colloquial and lowbrow, exactly the thing that high culture thinkers would not be swayed by. In the beginning of the column, Nye directs his comments specifically at Matthew Arnold, who was famously unimpressed with American culture. As just one example of Arnold's views, here is a quote from Arnold that Amanda Adams writes about in her article, "The Uses of Distinction: Matthew Arnold and American Literary Realism." Arnold wrote about his visit to Chicago, "That which most impressed me…was a certain assumption of culture, which, upon close observation, I found to be very superficially varnished over a very solid basis of Philistinism" (37). That is pretty much peak Arnold and gives a taste of the context in which Nye was writing his article.
Nye writes that Arnold would not view Americans as such a "vulgar people" if he had been able to read more of their great sports writing. Nye is touching on the fact that baseball itself is a particularly American sport that Arnold would probably not appreciate and also that baseball writing is quick-paced and written in haste. It is certainly not the labored over words of the artist.
This is an illustration of Nye's idea of good baseball writing:
"it looked rather rather [sic] equally for the Giants, for instance, till Slattery jolted merry thunder out of the horsehide, tore the tar out of the willow, smashed the leather, and then, while the Phillie fumblers were pulling dandelion greens beyond the Harlem, the Metropolitan infielder lit out like future punishment beating tan-bark accumulated a one-bagger, a two-bagger, and a three-bagger, straightened himself out like a long-waisted jack rabbit across the plate and made his royal red homerun just as the New York Central got in with the ball and the band played, 'Tommy Make Room for Your Auntie.'"
This description he imagines illustrating not to Arnold but to Lord Tennyson and ends his musings with "I think Alfred would like that." I'm butchering Nye's jokes for description purposes, but in the context of the column this line still makes me laugh more than 100+ years after it was written.
Nye finds that he can imagine that Tennyson would have quite a great time, really, with American baseball prose "unless he has a foolish prejudice against American writers." This is Nye's most insistent dig—that maybe if you have made your mind up about what you will find in a certain place/person/text that is what will you will find there. I think that's a worthwhile thing to consider. (And I'm sure that Nye and I could use that advice just as much as anyone else.)
Works Cited
Adams, Amanda. "The Uses of Distinction: Matthew Arnold and American Literary Realism." American Literary Realism, vol. 37, no. 1, 2004, pp. 37–49. JSTOR, JSTOR, http://www.jstor.org/stable/27747151.
Nye, Bill. "Bill Nye on Baseball." The Philipsburg mail. [Philipsburg, Mont.], 17 May 1888. Chronicling America: Historic American Newspapers. Lib. of Congress. http://chroniclingamerica.loc.gov/lccn/sn83025320/1888-05-17/ed-1/seq-4/
.